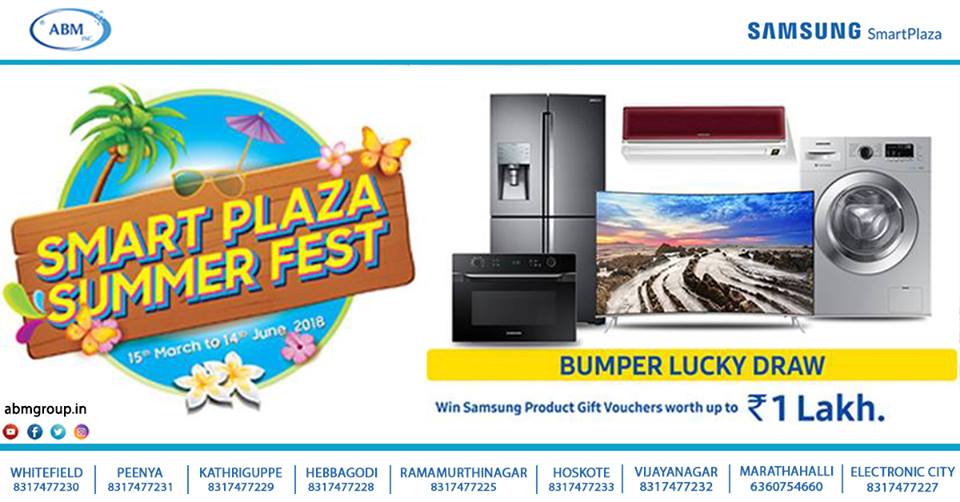 SMART PLAZA SUMMER FEST OFFER (15TH MARCH TO 14TH JUNE) | ABM SAMSUNG SMART PLAZA BANGALORE
Whenever you think of Samsung, think ABM Samsung. The ABM group deals in everything from Samsung - ranging from elegant mobile phones to Consumer Electronics like TV's, Fridge and impressive sound systems. Samsung beats any other electronics in the market!
At ABM Samsung, we have the best offers you can ever think of.
ADDITIONAL 5% CASHBACK
From March 15th to 14th June, ABM Samsung will hold a once in a lifetime Smart Plaza Summer Fest! Ooh did that just give you a cool breeze in this Hot Summer? Featuring exclusive Smart Plaza Exclusive offers, there will be an additional 5% cashback when you use a credit card related to one of the following ICIC Bank, HDFC Bank, Citibank, SBI Card. When you purchase any item at ABM Samsung, 5% will be added to the total purchase price if you pay with a card from any of the above mentioned banks and you will receive that amount in cash alongside your purchase.
BUMPER* LUCKY DRAW
This summer fest, you stand the chance of winning gift vouchers worth up to **Lakh. To qualify, all you have to do is SMS: SAM(space)Product(space)Email-id to 5626301. You will then automatically qualify to participate in the bumper draw. If you are lucky, you will be chosen to win a great Samsung product.
18 MONTH EMI* ON CREDIT CARDS
In this exclusive offer, ABM Samsung will grant you the opportunity to purchase any Samsung offer with a zero down payment, to pay across 18 months! The equated monthly installment (EMI) is supposed to cut through the 18 months.
20-20 (20 MONTH EMI)
20-20 always excites us especially with the IPL season setting in!
Another amazing offer you will get in smart plaza summer fest is 20% down payment on any product you will love to acquire and pay up the EMI in the space of 20 months! This deal is super amazing and attractive too. 20 months is as good as saying 2 years, the thought of having a product for almost two years with just a 20% down payment is a great deal.
1 YEAR ADDITIONAL EXTENDED WARRANTY
Aside from the usual warranty placed on premium products, the smart plaza is offering an additional1-year warranty on selected premium products. This means in the case of any malfunction that needs for maintenance; everything will be done for free as long as it is within the stated warranty period.
1 + 1 ADDITIONAL FREE* AC SERVICE
Summers have already hit the city and the first thing that comes to your mind when its hot is to have an AC. It has become more like a basic human need – thanks to the Global Warming! But to put all your woes to rest, we have an amazing cool offer! When you purchase an AC with us this Summer, you get an additional second year AC service for free.
All these offers are going down at ABM Samsung smart plaza from 15th March to 14th June. They are all irresistible offers, and you shouldn't miss out on this. Plus we also have loyalty programs for our esteemed customers. Trust me you don't want to be told!
So hurry up now and choose from this fantastic list of offers here at ABM Samsung Smart Plaza.
LATEST POST
Blog Archive
March 2022
April 2018
March 2018
February 2018