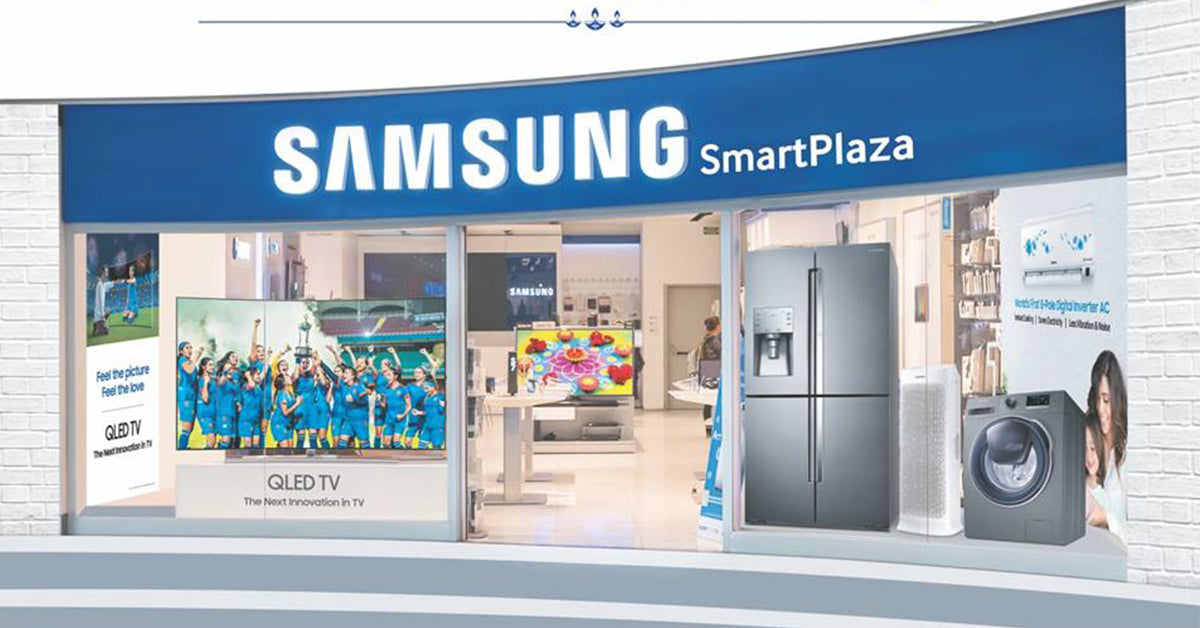 5 BENEFITS OF BUYING SAMSUNG PRODUCTS FROM ABM SAMSUNG SMART PLAZA | SAMSUNG BRAND SHOP IN BANGALORE
This festive season when offers are pondering from all the brand sellers we are more willing to buy gifts for our loved ones or change the old outdated contraptions with the brand new appliances. Further more confusion will be on choosing right store to buy your desired refrigerator, Air-conditioner, Microwave Oven or Television.
Samsung has evolved as most promising, trust worthy and most reliable brand in market today. With continuous innovations and constant technology upgradations Samsung has achieved a tangible place in heart of their consumers. Where competitors are trying to save their market share Samsung along with its Prime Partner ABM is gripping strong foothold in consumer market of Bengaluru. Samsung brand retail stores Samsung Smart Plaza in is launched in 9 locations of Bengaluru Ramamurthi Nagar, Whitefield, Peenya, Khatriguppe, Hebbagode, Hoskote, Vijaynagar, Marathalli where consumers can buy all range of exclusive Samsung products like Televisions, Smartphone's, Refrigerators, Air-Conditioners, Microwave Ovens, Accessories, Washing Machines, etc. Now if you are planning to buy any Samsung product in Bengaluru, you don't have to look for other multi-brand store rather you can just find Samsung Smart Plaza near you.
Many of the buyers may not be aware of the core benefits they get for buying Samsung products from Samsung Smart Plaza by ABM, so here I'm listing 5 major benefits of the same.
BRAND RELIABILITY
You don't have to worry about the authenticity of the product as Samsung Smart Plaza is managed by its prime partner ABM anything you buy from ABM's Samsung Smart Plaza directly comes from Samsung's own warehouse this makes you double sure about the authenticity.
EXTENDED WARRANTY
Now, where stores like Reliance digital and Croma sell the extended warranty for an additional cost here in Samsung Smart Plaza by ABM you get an additional extended warranty for almost all the products and that to completely free of cost.
OFFERS & LOYALTY POINTS
All Samsung Smart Plaza by ABM run exclusive offers of Samsung products a few of which are running currently are Summer Fest offer of additional 5% cash-back on HDFC and ICICI bank credit cards, Bumper lucky draw of upto 1 lakh prize, Bajaj finance 20-20 offer, No Interest EMI for 18 months etc and for each product we buy we get rewarded with up-to 1.5% reward points through exclusive Samsung Loyalty Program Samsung Smart Club.
24 HRS GUARANTEED DELIVERY
Samsung Smart Plaza by ABM commits you a guaranteed delivery within 24 hrs* for all the consumer electronic products, so now you don't have to wait or follow up with stores for your favorite TV or Refrigerator to get delivered. You can also schedule your delivery time and date based on your availability with a prior request to the stores.
SERVICE SUPPORT
With Samsung Smart Plaza by ABM you get complete support for installation and HOW TO. Also for service you can always rely on Samsung Smart Plaza by ABM for any kind of purchase assistance.
LATEST POST
Blog Archive
March 2022
April 2018
March 2018
February 2018