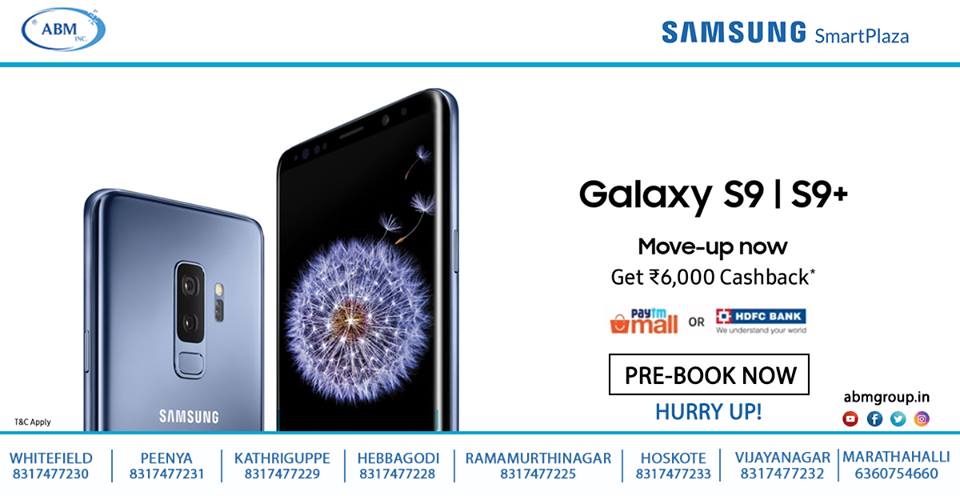 Samsung Galaxy S9 & S9+ Launched With Exciting Offers | ABM Samsung Smart Plaza Bangalore
There is no doubt that Samsung has been at the top of the Android phone market for some time now. Offering up a beautiful design, top specs and one of the most exciting camera setups around, on paper at least the S9 and S9plus has the capabilities to be 2018's phone of the year.
KEY FEATURES
5.8 OLED quad HD+ infinity display
Snapdragon 845/Exynos 9810
4GB RAM & 64GB Storage + Micro SD up to 400GB
12migapixel single rear camera with the mechanical variable aperture of both f/2.4 and f/1.5
8Mp front camera with f/1.7 aperture
The new Samsung Galaxy S9 and S9+ are the most advanced Galaxy smartphones. Here are some excellent reasons why Samsung is better than other phones.
DISPLAY
"The Galaxy S9 and S9 Plus have a slightly larger 6.2-inch Infinity display with no side bezels and small top and bottom bezels. Independent testing also shows the S9 AND S9 Plus has the best smartphone display you can find on smartphones."
RAM AND STORAGE
The S9 and S9 Plus have 6GB of RAM and 64GB internal memory with microSD card support for unlimited storage.
CAMERA
The S9 and S9Plus camera provides the best low light experience with the option for full manual mode as well. It has a camera a software version of (f/1.5 vs. f/1.8).
FAST CHARGING AND WIRELESS CHARGING
Samsung beats everyone, including Apple, with the quickest wireless charging technology available today.
The reason why Samsung S9 and S9+ is a phone to buy is that people use their smartphones for almost everything, and with the improvements in Samsung Galaxy S9 and S9 Plus, it is becoming an even better tool for businesses. It's clear that Samsung continues to push smartphone technology forward with the Galaxy S9 and S9Plus.
NOW HERE IS THE REASON WHY BUYING YOUR SAMSUNG S9 AND S9+ FROM ABM SAMSUNG SMART PLAZA IS THE BEST CHOICE YOU WILL EVER MAKE
ABM – SAMSUNG's PRIME DISTRIBUTOR for Samsung Mobiles and Accessories started its operations in the year 2004 and since then they are flawless in their achievements and innovative market approach. They treat their customers with utmost respect and indulgence, with delight and absolute integrity, their approach towards market innovation and conversation is their core. They stand on this belief in all their daily activities with a strong sense of confidence in empowering their employees.
The loyalty program is another reason why you should buy from here! With good offers for existing customers you are always striking the deal!
One of the significant aspects of ABM Samsung is that they offer corporate discounts to companies signed up with them. So once you sign up with your corporate ID, the discount automatically becomes available to you.
ABM Samsung, is indeed the voice of Samsung.
LATEST POST
Blog Archive
March 2022
April 2018
March 2018
February 2018