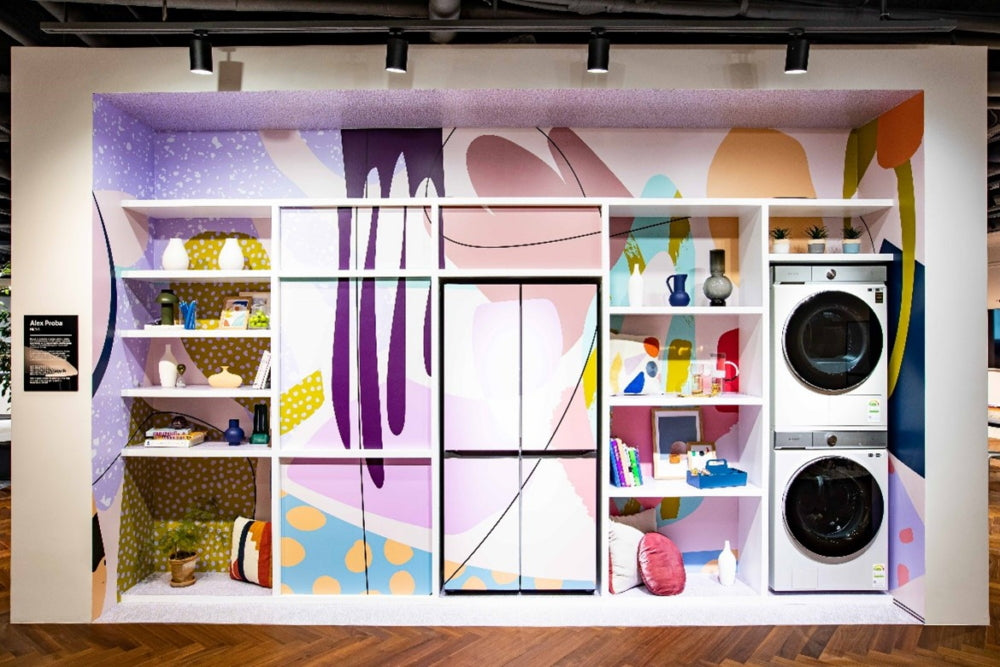 Alex Proba Brings Nature Inside the Home in the Latest Samsung Bespoke Refrigerator Collaboration
Samsung Electronics' Bespoke line of home appliances offers products that reflect the evolving lifestyle of consumers worldwide, marrying Samsung's advanced technologies with customizable aesthetics. Ingrained into the design principle of Bespoke is the creative exploration of new ideas that inspire joy and innovation, which is why Samsung is continually partnering with artists to offer fresh new concepts that inspire self-expression and everyday creativity with Bespoke products.
This year, Samsung has added limited-edition panel art in collaboration with artist Alex Proba to its collection of exclusive Bespoke designs. The panels are on display at Samsung 837 in New York and the flagship Samsung Electronics store in Seoul, and limited editions are available for purchase in the U.S.
Adding New Dimensions to the Bespoke Experience
Through past collaborations with artists Thibaud Hérem, Andy Rementer and Danish lifestyle brand HAY, Samsung's Bespoke appliances were transformed into statement pieces as these artists explored the limits of Bespoke's customizability. French illustrator Hérem took inspiration from European architecture, while U.S. pop artist Rementer highlighted diversity with colorful portraits of communities, and HAY developed custom-blends of colors inspired by natural food ingredients.
"Our Bespoke collaborations serve as a gateway for exploring aspirational design, transforming standard home appliances into art," said MH Bu, Head of Design Team, Digital Appliances, Samsung Electronics. "It's always exciting partnering with artists to see what their creativity will bring to the Bespoke line and how it can reimagine home designs around the world."
Finding Inspiration in Everyday Moments
Proba is the founder of Brooklyn and Portland-based design studio StudioPROBA. She describes the inspiration for her art as coming from shapes and colors that evoke positive memories and happiness. The artist has worked with hundreds of global brands on several art pieces — including graphic, environmental and furniture design, as well as artwork.
Proba's partnership with Samsung began when she was invited to design a room in Samsung's product experience space, Samsung 837. Located in New York's iconic Meatpacking district, Samsung 837 is a showroom where visitors can enjoy interactive experiences including virtual reality exhibitions, music performances and design installations such as the Bespoke My Home stages where Proba's projects were first displayed.
Divided into three arrangements — Kitchen, Lounge and Studio — the spaces are designed by local artists reflecting their stylistic visions. Ceramics artist, Aliza Simons of Brooklyn based Henry Street Studio, designed the kitchen with earthy tones integrating various ceramics. Furniture designer, Stephen Burks arranged the lounge space creating a cozy and relaxing vibe by combining his unique style with Bespoke's customizable designs. And Proba designed The Studio to reflect her own décor melding joyful colors and abstract shapes, and even including some of her personal belongings into the display.
Bringing Nature Inside via a New Medium
Thanks to this latest collaboration project, Proba's exclusive designs for the Bespoke 4-Door Flex refrigerator are now available for consumer homes. "My work explores joy and happiness using colorful patterns and shapes inspired by nature," said Proba. "Designing for Samsung's Bespoke refrigerator was a new adventure for me, and a way for my art to transcend traditional mediums — bringing vibrant color with abstract patterns to unexpected places."
Through their partnership with Proba, Samsung is offering consumers an exclusive motif inspired by the beauty of the world outside. To learn more about Proba's Bespoke 4-Door Flex refrigerators and to make reservations, follow this link.
An All-New Way To Add Color to Your Kitchen
Proba's limited-edition designs come as Samsung is offering its first Bespoke French Door refrigerators to the global market. Available in a 3-door and 4-door configuration — including the Family Hub™ options for both — these new refrigerators offer the latest in space saving and cooling technologies in a uniquely Bespoke package.
As practical as they are beautiful, advanced features in the Bespoke French Door refrigerators allow for optimal food storage that keeps food fresh longer by adjusting temperature and humidity. Chilled, filtered water is always ready in the built-in pitcher with flavor infusion options, and ice is quickly made in both cubes and ice bites to freshen up drinks.
The Bespoke French Door refrigerators will be available starting March in two materials, glass and steel, with a wide spectrum of colors to match. Glass options include striking shades like Clementine, Sunrise Yellow, Pink, Morning Blue, Charcoal, Gray and White, while steel options include timeless classics such as Emerald Green, Navy, Tuscan, Matte Black and Stainless.1 Check out the full range of Bespoke refrigerator offerings at Samsung.com, and stay tuned to Samsung Newsroom for the latest news about all things Bespoke.
LATEST POST
Blog Archive
March 2022
April 2018
March 2018
February 2018