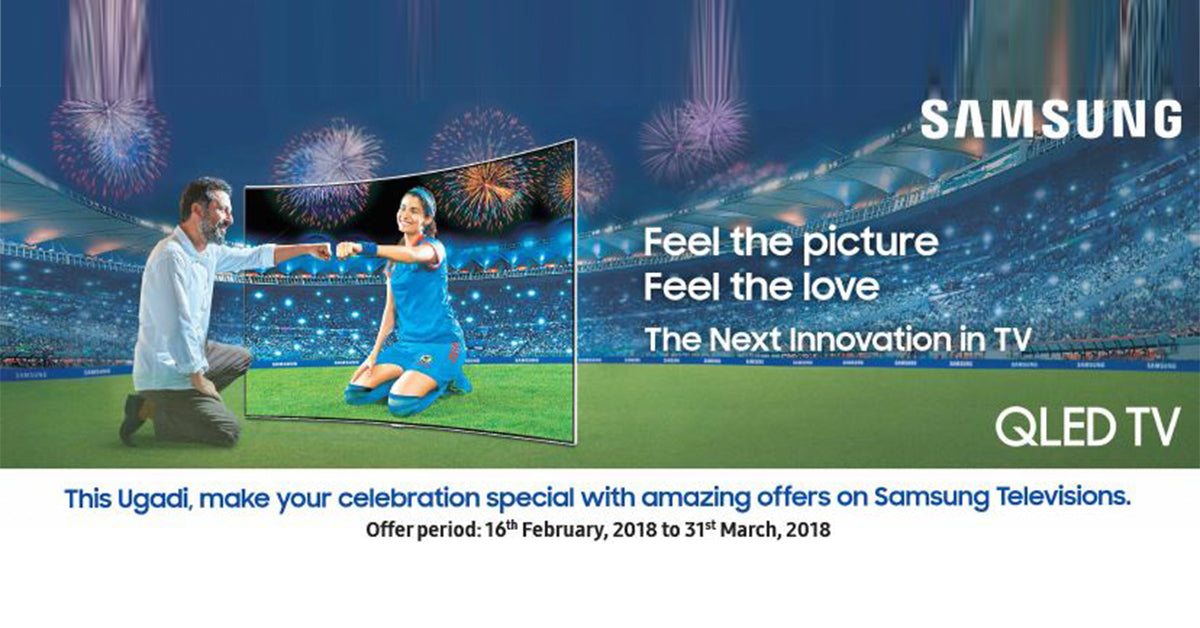 MAKE YOUR UGADI SPECIAL WITH AMAZING OFFERS ON SAMSUNG TELEVISIONS
With Ugadi around the corner most families will be looking for great offers on electronics. If you are one of them and are trying to look for great offers then you must read ahead. We at ABM group, the retailer and distributor of all Samsung electronics and telecommunication products in Karnataka region with scores of Samsung Smart Plaza stores across Bengaluru have some special offers just for you this Ugadi. Thinking of buying a television for your room, or maybe a home theater system for the entire family to install in the living area? If yes, then we have the best Ugadi offers on TV and ultimate Samsung offers that will make this Ugadi even sweeter and colourful for you and your family. Hear about our Samsung TV offers Bangalore here...
FIRST OFFER
Buy a QLED tv and get another TV worth Rs 77,000 free! Sounds unreal right? Yes, if you plan to invest Rs 3.5 lacs in a TV in any of our stores we have this tempting deal, right here, to take away with you. You also get a ten year warranty on both the TVs for free. So, if you are going to take the plunge to make this purchase then you might as well make it with us and no one else. You definitely don't want to miss out on an extra TV if you are planning to buy one. Make the most of it offer, valid only till this Ugadi.
SECOND OFFER
The second offer is similar. Buy UHD tv worth Rs 76,000 and get a home theatre system worth Rs 57,000and a soundbar worth Rs 11,500 free. This is a complete TV package. If you are planning to install a TV in the living area then you can definitely go for this offer.
THIRD OFFER
Buy a Smart TV worth Rs 33,900 and get a speaker system worth Rs 5,000 and a bluetooth speaker with Rs 2700 free!
These are great offers with free goods almost at 5% to 20% of their cost. What makes these offers even more tempting are the cash backs and offers on payment venues across all products, irrespective of schemes or even festivals. Purchase of any products from our ABM group of stores irrespective of any festival will fetch you 5% cashback on HDFC and ICICI offers, upto a 30 months EMI at 0 % down payment, 2 year warranty and 1 year for extended warranty at the same time many subscription offers across all big or small purchases.
Every purchase will get you something free!
We highly recommend that this Ugadi if you have a purchase lined up in the electronics space and if Samsung is your choice of brand - then look no further. Check the store closest to your home and head directly there. We might also have spot offers and sales on various goods that day depending on the response we received for the ones mentioned here. Check the closest store to you on our website and come live these offers with us this Ugadi.
LATEST POST
Blog Archive
March 2022
April 2018
March 2018
February 2018